FIRST AID/CPR/AED TRAINING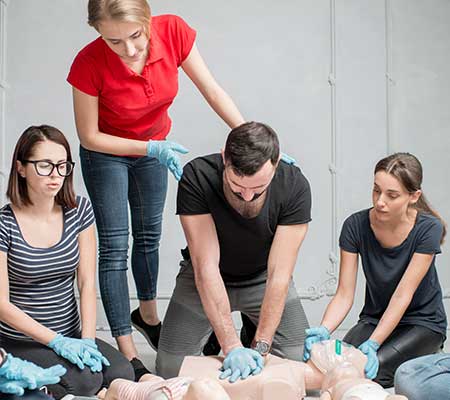 The YMCA of San Joaquin County offers training in First Aid/CPR/AED that covers adults and pediatrics. This training is OSHA compliant and given by a certified American Red Cross instructor. You will learn the basic techniques for First Aid/CPR/AED through hands on training in this class. Training will be held at the YMCA's main office at 2105 W. March Lane, Suite 1.

Ages: 15+
Cost: Staff - $50 / Non-Staff $75

Dates & Times



How long is certification valid?
Participants will receive a two-year certification from American Red Cross.
What needs to be completed before training?
Once you register for the training you will receive an email from our trainer with details about prerequisites required to complete before training date.
Will I need to purchase a book?
How long is training?
Training is 4.5 hours long with two 5-10 minute breaks in between.
Where is the training location?
Training will be held at the YMCA of San Joaquin County office, 2105 W. March Lane, Suite 1, Stockton CA 95207.
or email us on
This email address is being protected from spambots. You need JavaScript enabled to view it.